PROMOPLUS BRANDING DIVISION
---
We undertake all types of branding onto promotional products.  We have various machines in-house, this enables us to brand efficiently and professionally.  
WE OFFER THE FOLLOWING BRANDING SERVICES 
Metal engraving
We have Fibre lasers that can engrave onto most types of metal including Stainless steel, Gold and Silver.
Wood and plastic engraving
Our CO2 lasers enable us to engrave onto wood, perspex, paper and cardboard.   We can also cut these types of materials.
STICKERS AND DOMED STICKERS
Stickers
Regular vinyl stickers need no introduction. 
Domed Stickers
domed stickers are supplied on self adhesive vinyl.  They can be printed on gloss or matt white vinyl.   In addition we also produce metal look domes on a number of colours including silver and gold.    
Domed sticker uses:
Cars
Boats
Appliances
PC's
DIRECT TO OBJECT FULL COLOUR UV PRINTING
Direct to object UV printing allows for countless product customisation possibilities, including printing directly on three-dimensional objects up to 100mm thick.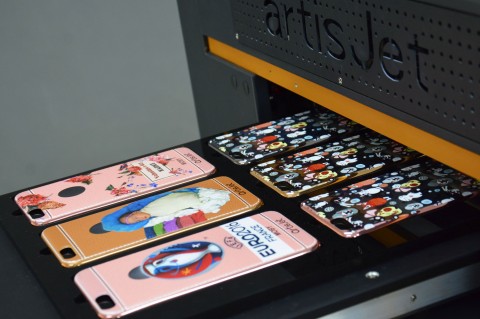 We are the South Africa agents for the largest tattoo manufacturer in the world
The process of applying a temporary tattoo engages the recipient in a dramatic way.   This could be your logo they are paying so much attention to.
Colours & Inks
All temporary tattoos are printed using as many colours as you require. An optional white ink can be added for FREE with designs that require a light or white background.
All inks are FDA regulated and are different from inks used for printing on regular paper.
Lead Times
3 weeks from approval of artwork. Cut off time for artwork submission is 11am on Mondays – Tattoos are then shipped on Thursday the following week and usually arrive within 5 – 7 working days from shipping date.
Artwork
We require artwork in one of the following vector formats: *.cdr, *.pdf, *.ai, *.fh10. If this is not possible, please supply a High Resolution jpeg (min 300dpi) or tiff file. We cannot work from low res jpegs.
Minimum Order
Minimum order on the standard tattoos is 1000 units. For special tattoos such as glow-in-the-dark, minimum order is 5000 units. Minimum on stock items is 200 units.
Standard Tattoo Sizes
Imagine having an advert on a person's desk 24 hours a day right at the person fingertips.  This person may be searching Google for a service or products or they may simply be browsing around.  Your message will be there in full view!   You should put your message where it will get a great response.  No other medium can get your ad as close to your target audience with the daily exposure you need.
Call or email us today
Fridge magnets
 have been around for ages.  The reason they are still here is because they work, plain and simple!  These are adverts that reside on a person's fridge, doorjamb, PC, office white board or other metal surfaces.  A relevant fridge magnet will not be thrown away.
Could there be a better advertising medium for service companies such as electricians and plumbers? Your advert will be visible to your customer on an ongoing basis.  For restaurants or fast food companies what better advertising could there be?  A little reminder on the fridge that you are there to make life easier.  Prominently displayed with convenient access to your telephone number or web address.
One of the most recent popular trends is to make save the date fridge magnets for weddings.  This makes a perfect ongoing reminder of that special event. Many people don't even take them down after the wedding